Don't miss out on street Art in New-York !
14 febrero, 2020
Anne-Lyse
Don't miss out on street Art in New-York !
Indeed, even the origins of the movement are blurred. New York is unanimously considered as the cradle in
In recent years graffiti has taken an important place in the art world, we can find it in different cities of the United States: Miami, Detroit, Los Angeles … but of course New York is the stronghold of this contemporary art. 70s art has largely developed there and it has gradually imposed itself on the four corners of the world.
In New York, if you want to see art, dozens of museums have their doors open. Moreover you can also simply admire it by strolling the streets. From the Bronx to Brooklyn, The big apple is a vast territory, no neighborhood is spared by the traces of aerosol cans, whether for lettering or to create impressive drawing on an entire wall. Here is a selection of our favorite spots.
Bushwick
If you only had to visit one neighborhood to discover New York graffiti, this would be Bushwick. You can easily find paintings in the streets around Wyckoff Avenue, and for the more adventurous, do not hesitate to go on the M subway walkways. You will have a breathtaking view of frescoes that you could not have observed otherwise.
You shouldn't leave the district without taking a look at Bushwick Collective, it's a veritable open-air gallery. Its founder, Joseph Ficalora, invited artists from around the world to paint on the old industrial buildings in this area. This transformation has largely contributed to making this ill-famed place a hipster corner very popular for both locals and travellers.
Metro Station : Jefferson Street
Williamsburg (Brooklyn)
This particularly trendy corner of Brooklyn is known for its trendy cafes, bars and restaurants. But it is also one of the most famous places to go and enjoy varied street art works (Graffiti, collages, murals, etc.). You will find most of them at the crossings of Keap and Hope streets, Kent and Grand and Meeker. There are some iconic murals (Peace and Love wall, Mona Lisa of Williamsburg and Andy Warhol), but also many other gems to discover by simply strolling through the streets of the neighborhood.
Metro Station :  Bedford Avenue 
Lower east side
The Lower East Side in Manhattan is a key location for New York street art.In the works that appear there one can appreciate the mixture of influences of the different cultures coming from this old district of immigrants.
This is also where the 100 Gates project was born, an initiative to paint 100 store doors (the famous metal rollers). Once these stores are closed, it's no longer iron curtains that unfold in front of our eyes, but a unique art exhibition.
To Discover more art works, you just have to walk the streets around Houston St, East Broadway… Also discover the Freeman Alley, a little hidden gem filled with urban art.
Metro Station : Bowery, East Broadway 
Soho, Little Italy et Chinatown
For this graffiti hunt, we will give you two tips: don't be afraid to get lost and don't forget to  look up. The most impressive frescoes will not always be at eye level. You have to leave the main streets of the city to explore narrower streets and discover around a crossroads the pieces that color the buildings.
In neighborhoods of Lower Manhattan, you can come across the work of Pichi and Avo, a Spanish duo who likes to mix classic and modern styles, as you will observe with their different mural work like the one below. 
Metro Station : Canal Street
These four New-york districts, will give you an idea of the extent that Urban art has taken in 30 years.  However, if you have the desire and spare time don't hesitate to go through East Harlem and East Village… who were also by this Art.
Share this post
Latest post
Testimonials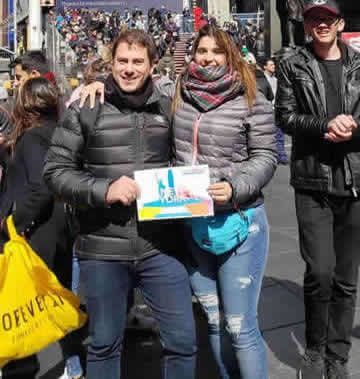 We had the best anniversary ever. We enjoyed the fact that we did not know where we were going, it made the trip so much better. The hotel was beautiful and was just accross the street from central park. We loved the suggestions in the app, and the scavenger hunt was so much fun! Thank you so much for a perfect anniversary!