Why is a Surprise Trip a Great Corporate Gift or Bonus?
Why is a Surprise Trip a Great Corporate Gift or Bonus?
A surprise trip may seem like a slightly over-the-top corporate gift or bonus. Most companies are used to rewarding their employees with salary bonuses, gift cards, or even custom made and personalized gifts. However, a surprise trip can be a great corporate gift or bonus for your staff, especially if you manage a business with a lean team of 5 to 10 employees.
Different studies have shown that experiences such as trips are much more remembered and meaningful than any material gift.
Additionally, a sensible manager knows that a company is nothing without its employees – they are invaluable to the success of your corporation and you may want to show your appreciation beyond simply paying a salary.
So, if you want to thank your workers for contributing to your corporation's success, go that extra mile and surprise them with a mysterious weekend getaway they always dreamed about – this is a kind of a corporate gift that will simply sweep them of their feet.
What is Surprise Travel?
Surprise travel packages are exciting, inspiring, and life-changing experiences. A surprise vacation is a great way to show your employees how much you appreciate all their efforts – a pack-and-go surprise trip is definitely a corporate gift they will never forget. A surprise element itself is enough to make the trip unforgettable. Additionally, it is a great opportunity for your employees to unpredictably take a break and come back refreshed and ready for new business challenges.
Surprise getaways are a new, exciting concept of travel in North America. If your employees are keen, open-minded travelers who enjoy inspiring and unpredictable travel experiences, a surprise trip is a great corporate gift and a perfect way to reward them for being loyal and devoted workers.
How Do Surprise Vacations Work?
Once you made a decision that a surprise trip would be a great corporate gift or bonus for your employees, simply purchase a gift cardon our surprise travel agency and we will take care of the rest for you!
The gift code can be redeemed by your employee on their desired travel dates. Once booked, the traveler will receive a survey asking them specific questions about some of their travel preferences.  One week prior to the trip they receive via email the weather at the destination as well as some packing instructions and a few days later they receive a package that contains the destination envelope and instructions on where to go on departure date. Once at the airport they will open the envelope and find out their destination.
Booking it is really simple. All they have to do is to provide a few details like the number of travelers, departure city, and surprise travel date. They may also select optional upgrades like breakfast or 4+ star hotels if they wish.
You just relax while we are planning an unforgettable surprise trip for your devoted employees.
The Benefits of Surprise Trips
Taking time off is good for health, even science proves that. According to a recent survey, the average U.S. employee suffers from being exhausted, overworked, overwhelmed, and fatigued. At the same time, the results show that these workers take only half of their allotted vacation time. In addition, three in five people who do go on vacation report doing some work while traveling. Many workers are frustrated by the long hours they are working, but without giving themselves a rest, which often leads to accumulated stress, dissatisfaction, anxiety, and causes both mental and physical health problems.
So, here are some research-based reasons why surprise trips are great corporate gifts or bonus option for your employees.
Vacations Boost Our Mental and Physical Health
Taking time off is vital for your employees' mental and physical health. Plus, after the inspiring surprise trip, your workers will come back to the office happier, more effective and productive, so surprise trip is a sure win-win. Moreover, different studies suggest that vacations reduce stress by removing people from usual activities and environments associated with stress. In addition, the effects of alleviated stress last beyond the duration of a surprise trip – surveys show that even a few weeks after returning home, holidaymakers usually have less stress-related complaints such as headaches, backaches and similar.
Surprise Trips Improve Productivity
One study found that vacations improve employees' performance rating at the end of the year. Also, workers who frequently take vacations are less likely to leave the company. In addition, they are significantly more productive than those who don't take time off. Surprise vacation makes people happy and relaxed. And when people are happier, they excel at what they do – their productivity and efficiency shoot up.
Vacations Help Us Relax and Sleep Better
Restless nights and insomnia often occur when we are overworked and have too much on our minds. Consequently, a lack of sleep leads to less alertness, impaired memory, reduced ability to focus, decreased productivity, reduced energy, and diminished mood. A surprise trip is a wonderful opportunity to reset sleep pattern by interrupting some habits that usually disrupt sleep, such as late working hours or sending emails from bed.
Surprise trips may be unusual corporate gifts, but definitely worth considering. Think of surprise getaways as of a creative way to enhance your business – taking some time off will help your employees be happier, healthier, more relaxed, and more productive.
If you would like to learn more you can visit the site or contact us via email at travel@next-where.com
Share this post
Latest post
Testimonials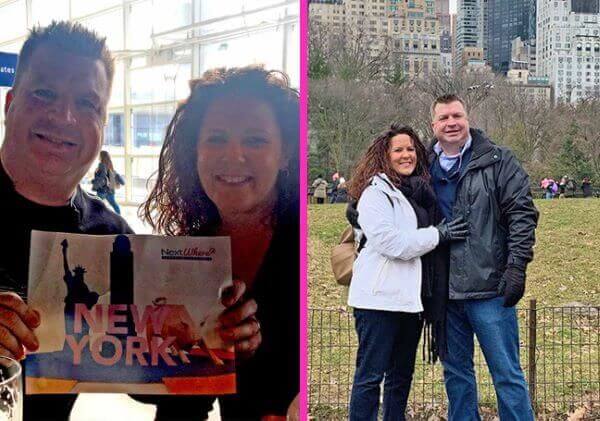 My wife and I usually take 2-3 trips per year, and this was one of the most enjoyable ones yet. Next-where planned a whole agenda for us, full of places to explore that we would never have thought to go to. Our hotel was in prime location downtown, walking distance from almost everywhere we wanted to go. We will definitely let Next-Where plan another trip for us and have already recommended them to my friends.

One last thing, the scavenger hunt was great. I've been to New York twice before and never stepped foot in Central Park. We ended up spending about half of a day exploring and enjoying it because of the scavenger hunt (even for hours after we completed it) so please don't ever abandon that portion of the trip experience.