How to Pack for a Surprise Trip
You have just discovered that your boyfriend is taking you on a mystery trip next weekend. However, since it is a surprise trip, he won't tell you where you are heading. You are so excited and happy to leave. But at the same time, you are so anxious. Since you have no idea where you are going, you don't know what to expect. And you absolutely have no clue what to pack. Well…packing your bags for a weekend getaway is pretty tricky if you actually don't know where you are going, we have to agree on that.
Don't stress, though. With the weekend mystery trip in our mind, we'll share 6 great baggage packing tips for your surprise vacation. Relax, read, and start packing. Once you're all set, indulge in your surprise retreat!
Tips for Packing for a Surprise Trip
Make a Checklist
You probably won't know what your weekend getaway destination is until you arrive at the airport (most likely you're going to fly there). It may be an exciting city break or a relaxing weekend at a seaside resort. Or anything in between.
So, make a travel checklist of all necessary items you would normally bring when going on a vacation. Firstly, make sure to pack the basics. Here are the items you should always have on hand when traveling, regardless of your destination:
Passport
Cell phone and charger
Electric converters and adapters (assuming you're going abroad)
Lightweight clothing (make sure to pack layered clothes)
Comfy walking shoes
Sleepwear and underwear
Travel pillow
Umbrella, raincoat and/or windbreaker
Swimming suit
Sunglasses and a hat
Pick the Luggage
After you have your travel checklist ready, it is time to choose your luggage. Since your boyfriend is taking you for a weekend surprise trip, bring only a carry-on with you. Choose luggage that is lightweight, easy to carry, and versatile.
Traveling with a carry-on luggage only will save you time at the airport since you don't have check-in baggage. Additionally, you'll save on check-in fees and eliminate the possibility that airlines lose your bag…worth considering, right? Just make sure your carry-on dimensions are within the limits for most airlines.
Furthermore, make sure your luggage is in good shape. Traveling with a suitcase with a broken zipper or handle can be a disaster. So, double-check your old carry-on before you start packing and ensure that your new bag has a warranty.
It is always a good idea to pack some extra clothes in your carry-on.
Get the Weather Forecast
Although your boyfriend probably wants to keep your travel destination a secret until the very last moment, you can ask him to get the weather forecast for your destination, so you know whether to pack a swimming suit or a raincoat. Or bot
Pack Small
When packing for your surprise weekend trip, think small. This being said, buy small packages of your travel necessities. You won't need 30 oz. of your favorite shower gel if you're going away for two or three nights.
There is a great variety of travel size toiletries available today, so you can stash your baggage with the items you may need while away from home and still save a lot of space in your bag for clothes, jewelry, and shoes. The top must-haves when it comes to miniature toiletries include:
Mini toothpaste and mouthwash
Travel size shampoo and conditioner
Shower gel
Wipes and antibacterial hand gel
Sunscreen mini pack
Small deodorant
Travel size body lotion and cream
In addition, you can get one of those super handy travel kits that usually include mini manicure set, miniature travel sewing kit, a travel toothbrush, and a mini emergency kit – perfect for your weekend getaway.
Miniature travel necessities will save you space but still provide comfort knowing that you have packed everything that you might need during your surprise trip. This way you won't have to run to the local pharmacy or drug mart as soon as you get to your destination.
Medications
In case you take medications regularly, make sure to pack them for your trip. If you are running low on your med supply, make an appointment with your family physician and ask for a prescription. You want to be able to relax and enjoy your surprise weekend getaway, so it's important that you take care of yourself. Also, ask your boyfriend about the medical service at your destination – hopefully you won't need it…but better safe than sorry.
Whether you travel to a remote exotic island or a bustling city, it is always a smart idea to pack some med essentials when going away. Apart from prescription medicine you usually take, the following items will be useful to have during your mystery vacation:
First aid supplies such as
Bandages, gauze, antiseptic, scissors, tweezers
Digital thermometer
Oral rehydration solution packs
Over-the-counter medicines such as:
Antihistamine
Anti-motion sickness medication
Antifungal and antibacterial ointments or creams
Medicine for pain and/or fever
However, make sure to check the Transportation Security Administration website for medicines that you are allowed to carry onto an airplane. Also, double-check the Customs and Import Restrictions section of the U.S. Department of State Tips for Traveling Abroad, as some items and meds may not be allowed in other countries there is a chance that your surprise trip will take you abroad).
Now when you have all it covered, you can relax and wait for your surprise trip to finally begin.
Share this post
Latest post
Testimonials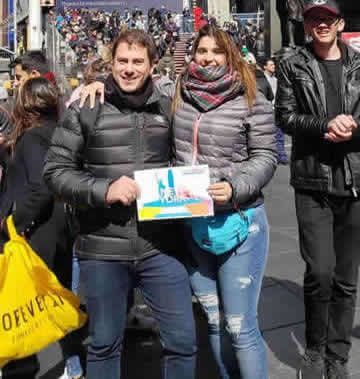 We had the best anniversary ever. We enjoyed the fact that we did not know where we were going, it made the trip so much better. The hotel was beautiful and was just accross the street from central park. We loved the suggestions in the app, and the scavenger hunt was so much fun! Thank you so much for a perfect anniversary!