What To Do on a Weekend Getaway to Boston?
From history to education to fantastic views, Boston is without a doubt one of the most important cities in the US. Let us help you plan a weekend trip to one of the oldest cities in the country to visit a buzzing metropolis where both history and progress meet, forming an important cultural and economic center for an entire region.
Where to stay?
If you're going to Boston for the weekend, you need to stay somewhere near all the main attractions. The city has amazing options that cover all price ranges, but luckily, you don't have to look too far if you're looking to stay within your budget. Here are some of the best options for that:
Just seven miles away from Logan international airport is the Ramada Inn Boston, a small but comfortable lodging that has free WiFi, swimming pool, pub, and free transportation to the airport, which is a massive plus.
It is located only five minutes away from the beach, and is also near some must-see sites such as the Boston Common, the Museum of Fine Arts, Fenway Park, and the John F. Kennedy Museum, just to name a few. It also has two well-known restaurants near-by: The Deadwood Café and The Freeport Tavern.
Here, you can enjoy nice and comfortable rooms, free WiFi, a fitness center, a lounge bar, private parking, and even dry-cleaning services. The Boxer is a boutique hotel that meets all of your needs and will certainly make you want to stay for more than just a weekend.
This centrally located hotel is right in the heart of Boston's historical center, only minutes away from Boston Common and the Museum of African American History.
Best Western Plus Boston Hotel:
This lodging is another great option if you want to stay near Logan international airport and have some sites to visit as well, such as the Museum of Fine Arts and Hynes Convention Center.
The Best Western Plus offers a free pick-up service to the train station, which perfectly complements its amazing location in the city. It also counts with a business center if you want to get some work done, as well as a fitness center and dry-cleaning services, premium television and WiFi.
What to do in Boston? 
Boston receives as many as 16 million visitors per year, all looking for a taste of history, culture, education, and fun. Here are a few of the things you can do during your stay:
During the day:
There are countless daytime activities in Boston, no matter if you're traveling alone or with your family. From beautiful parks to historical landmarks, you can choose many places to spend your day as you like.
This trail tracks the series of locations and events that led to the independence of the United States. It is a red brick road that starts at Boston Common and ends at Bunker Hill Monument, and you can follow it on your own or as part of a guided tour.
The trail is 2.5 miles – or 4km – long, so it will surely take you the entire day to visit and learn about all the stops. If you're planning on following the trail on your own, then make sure to take a map with you and keep your phone on you to look up any historical facts you might want to know about.
Science, medicine, and technology are the heart of the Bostonian economy, and actually one of its most interesting attractions. Right on Science Park by the Charles River, the Museum of Science has an amazing collection of over 700 exhibits and interactive pieces, as well as its very own indoor zoo.
Some must-sees of the museum are the Butterfly Garden, the Dinosaurs: Modelling the Mezosoic exhibit, and the Seeing is Deceiving exhibit, full of optical illusions that will blow your mind.
The museum is open every day of the week from 9:00 am to 5:00 pm, except on Fridays, when it works until 9:00 pm. The tickets have a cost $30 per adult and $24 per child; when planning a visit, make sure to visit their website to ensure that the exhibits you want to see are available on that date.
The Boston Public Garden:
Take a walk through this green and lush botanical garden as a break from your schedule. The Boston Public Garden is full of greenery and promenades to take a peaceful walk among water, trees, and local wildlife.
The Public Garden is placed right next to the Boston Common, the oldest park built in the United States, and both form a green lung in the middle of a buzzing city. One of the Public Garden's most notable attractions are its Swan Boats, where you can take a ride to enjoy the views when there's good weather.
During the night:
Go up to one of the highest spots in Boston and enjoy a breathtaking view of the entire Boston skyline and bay. The Skywalk Observatory, located at the very top of the Prudential Center, is the city's best viewpoint to start your evening.
Tickets to the Observatory have a cost of $21 for adults and $15 for children under the age of 12. This is both an interesting and spectacular learning experience, and once the sun is down, it's also the perfect start for a fun night in the city.
If you're looking for a fun and exclusive experience while in Boston, then The Grand is a must. This amazing night club is regarded as one of the very best in the city, with spectacular settings, music, and lighting.
The Grand is one of the best examples of the nightlife in Boston: buzzing, vibrant, and exclusive. The club is one of the most exclusive in the city, but it is so popular that it is well worth a visit at least once.
Enjoy a nice dinner and an amazing cocktail on Globe's rooftop bar, and take a look at the glittering city while having a good time. Globe Bar & Café is a great experience to finish off your visit to Boston, mixing in with local workers and people from all over town who come to enjoy everything this venue has to offer.
If you're visiting in the summertime, make sure to enjoy a drink in the local's roof deck to get a last look at this wonderful city that brims with a mix of everpresent history and bustling life in every corner.
So there you have it: a complete list of places to sleep in and visit during your weekend visit to this beautiful city. Boston thrives on being the perfect amalgamation of its past and its present, with its eyes aways looking towards the future.
Surprise your family, your friends or your partner with a getaway to this fantastic place in the US and have one of the best times of your life!
Share this post
Latest post
Testimonials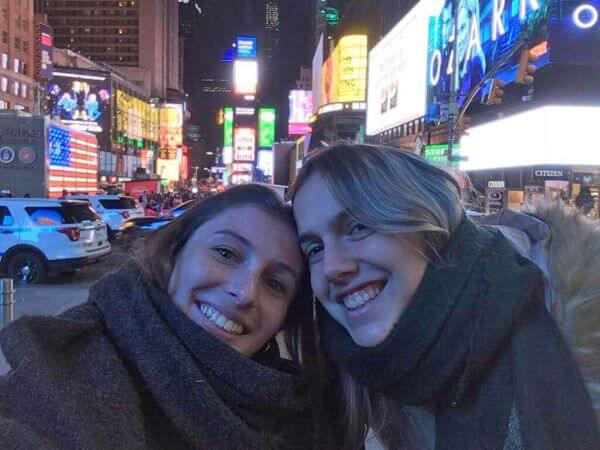 Incredible trip, staying at the heart of NYC.

Thanks for a great weekend,