Where to Go on a Weekend Getaway to Savannah, GA.
Savannah is not only the oldest city in the state of Georgia, but is also a hub for art, architecture, history, and culture – all beautifully wrapped in the greenery of parks and perfectly looked-after natural spaces. This city proves time and time again to be one of the best destinations to visit in the South, so take a look at what you can do and where you can go on a weekend getaway to Savannah, GA.
What to know about Savannah
Savannah is not just a beautiful old city but is actually one of the most historically rich centers in the American South. Founded in 1733, Savannah and the state of Georgia became one of the most important ports on the Atlantic coast and remains so to this day. Its role in the development of the southern economy was paramount to its own cultural and financial enrichment through the years.
The origin of the name of Savannah is not completely clear, but some theories point to the Shawnee tribe that originally lived in these lands, who were also known as 'savano's or 'savannah'. Another possible origin is that the name alludes to the wide expanses of marshland, known as 'sabana' in Spanish.
Since the Revolutionary War, Savannah has steadily grown into a powerful port and industrial city. After being one of the most important plantation regions in the South, its economy expanded until it reached its main modern-day pillars: port activity, manufacturing, and tourism. This last one was responsible for over 14 million visitors each year.
What to do in Savannah for a weekend getaway
Once you're all settled, it's time to explore the best parts of Savannah, which are not few. Savannah is a southern jewel full of history, nature, and a bustling tourism economy, so here are just a few of the place you must see during your weekend stay.
During the day: 
Wormsloe Historic Site
Straight out of Gone with the Wind, this impressive location is exactly what comes to mind when you think of the oak trees, the moss, and the bearing history of the Old South. Although mostly in ruins, the Wormsloe plantation still offers breathtaking natural views that, combined with its historical significance, stands as one of Savannah's most famous and memorable places to visit.
The Wormsloe Historic Site is located south of downtown Savannah, in the peninsula of the Isle of Hope. It was originally built as a fortress against the threat of a Spanish invasion, responding to the military foundations of Savannah. As the years passed, it was turned into a plantation and used as a country residence for the owners, until it slowly decayed and became a beautiful, state-protected historical site.
You can visit the Wormsloe museum and walk among the ruins, the dense vegetation, and even hike through the establishment, including its impressive oak-lined avenue. You can take a guided tour to fully appreciate all of the history behind this place, which will only take around 45 minutes and is completely free.
Forsyth Park
One of Savannah's best features are its green spaces, out of which Forsyth Park is undoubtedly the most popular. This 30-acre park was founded in the 19th century and has since become one of the city's landmarks.
This big and green expanse of nature in the middle of the city offers a half shell theater, a tennis and basketball court, playgrounds, and even a café to grab something to eat during your visit. Its most prominent feature, though, is the beautiful French-style Forsyth Fountain, where you can take amazing pictures.
As the center of the city, Forsyth Park is rarely empty. Walking among its trees, it is common to find all sorts of cultural events, as well as people exercising, painting, or just having some downtime. This park is definitely an obligatory stop when visiting Savannah.
Telfair Museums
This set of galleries in the heart of the Historic District constitutes the oldest public art museum in Georgia. The Telfair Academy, the Owens-Thomas House & Slave Quarters, and the Jepson Center are within minutes of each other, and together contain Savannah's most important collection of art.
The Telfair Academy was founded in 1886, in a beautiful Regency-style mansion that is a work of art itself. Inside, you'll find an extensive collection of American and European paintings and works of art, as well as impressive 19th-century décor.
At the Owens-Thomas House & Slave Quarters, you'll find a wide collection of decorative arts, but the untouched slave quarters are for sure one of the most important aspects of Savannah history that the museum has to offer. The Jepson Center, on the other hand, houses a selection of modern and contemporary works of art, as well as African American art, photography, and sculpture. Make sure to book your tickets in advance!
During the night:
Bonaventure Cemetery Tour
Yes, we're telling to visit a cemetery at night. You might find this odd and scary, but Bonaventure is not just any cemetery; it is a large and beautiful expanse of nature and amazing sculptures to remember those who are gone, and it definitely is one of the most impressive sights Savannah has to offer.
Founded in the 19th century, the Bonaventure cemetery claimed fame thanks to the novel Midnight in the Garden of Good and Evil, and ever since it has become a notable touristic spot and one of the most curious activities in Savannah.
You can book a tour in advance and take a walk through haunting statues and mesmerizing graves to enjoy the stillness and the quiet of the night, in one of the most beautiful places in the city.
Top Deck Bar
One of the best-reviewed rooftop bars in Savannah, you'll definitely love spending a night here on your weekend getaway. Enjoy one of the best views of the Savannah River among refreshing cocktails and delicious dishes.
If you're visiting during the summer, Top Deck Bar – located right above the Cotton Sail Hotel – is one of the best choices to cool off your evening from the Southern heat. Here, you can enjoy the amazing menu that covers everything from cheese boards to pot roast sliders.
After a day of getting to know the city, Top Deck Bar is an exclusive, relaxing and modern experience to set the mood for the rest of your evening.
Club 51 Degrees
To finish off your night the right way, head to Club 51 Degrees for some dancing and great drinks. This club is famous throughout all of Savannah, with three floors dedicated to different types of music to suit all tastes.
The mood in this club is ideal for a night of unabashed weekend fun, so make sure to wear your best and impress both locals and tourists. The lines to get in are known to be long, so be there before midnight to ensure a chiller environment before things get really crowded.
Good music, amazing service, and quality drinks; the perfect way to end your last night in Savannah.
When you leave Savannah, you'll feel like stepping out of a fantasy book where history, art, and nature were the main protagonists. This city is set in motion by its heritage but still manages to be a buzzing metropolis full of life, color, and culture. Now that you know exactly where to go on a weekend getaway to Savannah, GA, don't think twice about reserving your flight!
Share this post
Latest post
Testimonials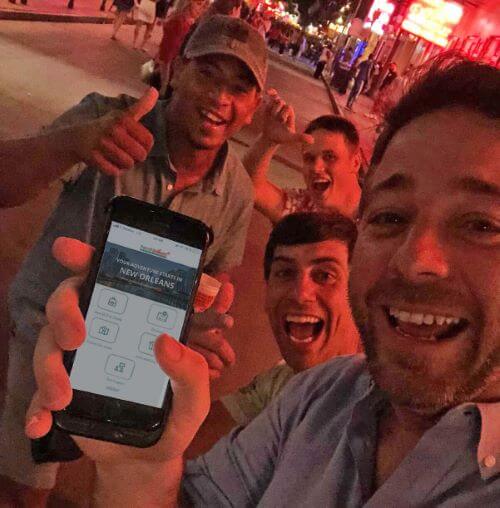 Amazing Weekend in NOLA. They booked us on a great hotel near Bourbon Street. We had a blast!