Best 6 Pizza Spots in the US
23 octubre, 2019
Madeleine
If you're a pizza lover – aren't we all? – you probably look for the best ones in every city you visit. Sure, you should always be open to local cuisine, but a good pizza joint is always appreciated. No matter if you prefer deep dish or paper-thin, traditional-style or with pineapple on top, from coast to coast we bring you the best pizza places in the US so you can enjoy some great slices away from your favorite restaurants.
Find this traditional pizzeria in the Upper West Side as one of the best-reviewed pizza restaurants in all of New York, a city famous for its slices. Mama's Too has an entire catalog of housemade goods, wines, and beers that blends perfectly with all the artisanal toppings and ingredients they can boast about on their menu.
Although fairly popular, the hype is for good reasons; we're talking about one of the best-reviewed pizzas in the city, both by critics and the public. With their fermented dough and fresh, luxury ingredients, Mama's Too is a city staple you ought to visit if you're ever in the neighborhood. 
A classic pizzeria located in Westchester that has grown into a local favorite, Frankie's is your go-to place if your looking for slices with a taste of family at friendly prices. Their menu consists of classic-style pizza with traditional ingredients and toppings, perfect for both a quick dinner and a family gathering.
What makes Frankie's so charming is that it's straightforward in style, without any claims to being the best pizza in the state – even when it clearly ranks very high in that top. Frankie's is all about the flavor, the quality, and the experience of making a slice of pizza feel like home.
Believe it or not, there is more to Chicago pizza than deep-dish. Although most people may think this controversial presentation is the only type of pizza Chicago produces, the truth is that the Windy City is home to some of the best pizza joints in the country, and there's no better example than Bonci Pizzeria.
This casual restaurant dedicates its entire craft to producing the best pizza with the best ingredients out there. From the crops to the table, Bonci makes sure that his Roman roots live on in the form of the best-quality pizza in Chicago.
If you like classic Detroit pizza, with its square, crispy corners and marinara drizzled over the cheese, then you have to go to the place where it was born. Established in 1946, this is the cradle of the world-known Detroit style pizza, served in a familiar and traditional venue.
Buddy's historical value in the gastronomy of the Motor City not only comes from how long it's been standing, but from the quality of their food, which other names have tried to emulate, but Buddy remains the original pizza joint of the Detroit pie.
Pizzeria Mozza, Los Angeles
While Los Angeles may not be the first place you think about when it comes to pizza destinations, the truth is that it is the home to some of the best pizza joints on the West Coast. This is because in this city, as we everything in LA, pizza has its own style.
The best example of this served by Mozza, located in Hancock Park. Paper-thin crusts are topped with the best California cuisine ingredients like egg, greens, and the freshest goat cheese you can find in a single serving of pie. Mozza does it like no one else and definitely sets the style for the other pizza joints in the city.
Boston pizza's reputation has increased exponentially during the last couple of years, mostly thanks to the fantastic locales that have opened and started serving everything from the most traditional pies to the most artisanal.
Pastoral is a good representative of this emerging pizza scene. Rustic, warm, and distinctly Italian, this restaurant not only offers delightful slices of Roman-style pies but also makes their most important ingredients by hand, which is what gives their pies their own signature flavor and texture. Venues like these are what give cities like Boston a solid place among the best pizza spots in the country.
There you have it: the six best cities to enjoy amazing pizza and open up your horizon – and your taste buds – for new pie-related experiences. Although pizza is Italian, there's no denying that the United States has made it their own, with each city adding in its own ingredients to make each pie different in its texture, flavor, quality, and experience, making us look for the right slice everywhere we go.
After all, there's no such thing as too much pizza.
Share this post
Latest post
Testimonials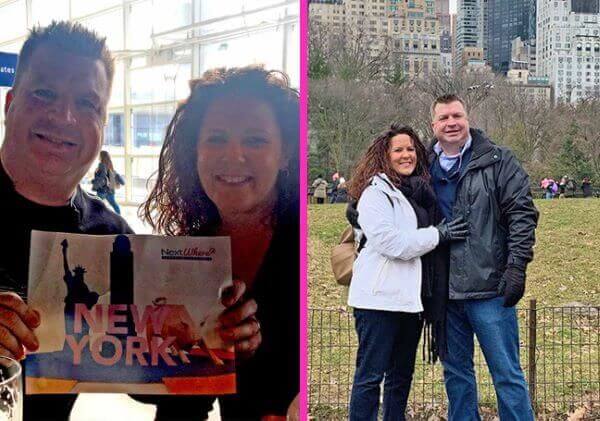 My wife and I usually take 2-3 trips per year, and this was one of the most enjoyable ones yet. Next-where planned a whole agenda for us, full of places to explore that we would never have thought to go to. Our hotel was in prime location downtown, walking distance from almost everywhere we wanted to go. We will definitely let Next-Where plan another trip for us and have already recommended them to my friends.

One last thing, the scavenger hunt was great. I've been to New York twice before and never stepped foot in Central Park. We ended up spending about half of a day exploring and enjoying it because of the scavenger hunt (even for hours after we completed it) so please don't ever abandon that portion of the trip experience.