The Old and the New: Best Restaurants in New Orleans
4 noviembre, 2019
Madeleine
From its history to its culture, going through its bustling modern life, New Orleans is as rich, bright, and loaded as any of its traditional dishes. When hitting the Big Easy, it is impossible to not have your mouth water at the immense gastronomic presence that litters its every corner, which condense the flavors of Creole, African, Cajun, and French cultures into amazing concoctions known across the world.
However, as with any good treasure, you have to be sure of where to look for the gems, and that is why we bring you a list of the best restaurants in New Orleans to fully enjoy everything its cooked goods have to offer.
Dooky Chase's Restaurant
Both historically and culturally rich, this restaurant was not only Leah Chase's kingdom of Creole cuisine, but also one of the most important spots for African-American culture and society.
Opened in 1941 as a bar and sandwich shop, it quickly turned into a fine dining restaurant in 1944 with the help of chef Leah Chase, who went on to be known as the Queen of Creole Cuisine. The specialties in Dooky's menu became famous throughout the entire United States, and the establishment has become, without a doubt, a landmark in New Orleans' gastronomy, culture, and history.
Galatoire's
Standing since 1905, this restaurant is one of the oldest continuously working venues in New Orleans, and certainly one of the most characteristic. Growing from humble beginnings, Jean Galatoire's small original venue has grown to become one of the most important and respected names in the city.
This restaurant's menu is a perfect mix of the French and Creole, which has barely been altered since its founding days. After all, Galatoire's does pride itself on its consistency. Its seafood selection is clearly one the main offers, with a wide array of dishes that go from shrimp in all its presentations, to shellfish and seasonal fish perfectly accompanied by cocktails and wine.
Herbsaint
While big names with loads of history are not uncommon in New Orleans, it is the more under the radar ones that manage to gather a certain charm and attractiveness to them. Such is the case of Herbsaint, a hidden venue with a menu well worth visiting the city for.
This bar and restaurant opened in 2000 to quickly climb up to the very top of some of the most respected restaurant rankings in the country. The quality of Herbsaint's menu is a direct result of their commitment to local farmers and fishermen, who offer the best products for their French-Creole presentations, which come accompanied by a fine selection of wines and desserts.
Ralph's on the Park
This beautiful venue located in the leafy heart of NOLA is an airy, tranquil option that strays away from the bustle of the center of the city. However, its menu is an homage to local cuisine with a twist that sets it apart from the competition.
With a long list of names and renovations under its belt, the current facility stands since 2003 but continues to offer fantastic views of City Park, which serves as the perfect backdrop for the French-Asian-Creole fusion dishes that go from oysters sprayed with parmesan, entire roasted fish, and an amazing array of salads.
Compére Lapin
A venue with a particularly quaint origin, Compére Lapin draws its inspiration and philosophy from Caribbean folktales featuring a curious rabbit that the chef Nina Compton enjoyed as a child. These familiar stories, mixed with her impressive culinary training, became the menu for this locale.
The dishes served at Compére Lapin are of Creole tradition, combined with French and Caribbean flavors that create a playful amalgamation of textures and colors that not only call for all the senses, but turn familiar presentations into new experiences, like a fried oyster sandwich for lunch or curried goat with sweet potato gnocchi and cashews on the side. All with flavors straight out of a tale.
La Petit Grocery
Set in an 1800's building, you can feel the history and the traveled roads of La Petit Grocery just by walking through its doors. Owned by Mia and Justin Devillier – who also own Balise, a bar and restaurant renowned for its ingredients -, this venue celebrates NOLA flavors by giving them an experimental culinary twist that comes from Devillier's extensive training.
The Grocery's menu consists of traditional New Orleans dishes with combinations that take them to a new level of flavor. Plates like the panéed rabbit with turnip purée and the double-cut pork chop are staples for the chef's reputation of the best ingredients put together in creative and experimental presentations.
New Orleans is one of the richest cities in the US when it comes to gastronomy, and these are just six of the countless amazing options you can find when exploring the streets of the city, so go ahead and make a reservation to enjoy a true Southern meal you definitely won't forget.
Share this post
Latest post
Testimonials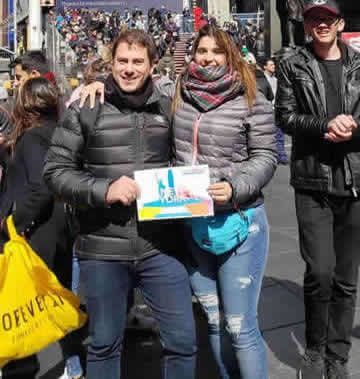 We had the best anniversary ever. We enjoyed the fact that we did not know where we were going, it made the trip so much better. The hotel was beautiful and was just accross the street from central park. We loved the suggestions in the app, and the scavenger hunt was so much fun! Thank you so much for a perfect anniversary!