Unique Hotels in North America
23 septiembre, 2018
Natasha
Almost every hotel has something that makes it special, whether it is its settings, services or people. Your passion for travel may take you to different places but only unique places will stay in your lifelong memory and make you wish to come back.
So, here is the list of the most unique hotels in the U.S. and Canada definitely worth exploring.
The Liberty Hotel, Boston, Massachusetts is a fine, luxury hotel overlooking the Charles River. But not only that. This exquisite hotel was formerly known as the Charles Street Jail. Yes, jail. The hotel is today creatively decorated to reflect its original use as a prison.
This hotel is the historic landmark of Boston. Originally built in 1851, the Liberty hotel stylishly combines its historic heritage with modern conveniences such as luxury furnished rooms, wireless internet, and ultramodern fitness facilities.
You can dine inside the former jail cells at the Clink restaurant or have a cocktail at a cocktail bar Alibi, once the prison's drunk tank. So, if you are interested in Boston's history, this hotel is a must. It is also a great choice for travelers seeking creative travel opportunities.
In Canada, you'll find hotels and resorts nestled in out-of-this-world settings. Canada is revered for its spectacular nature. Therefore, it is not a surprise that many hotels are settled in extraordinary landscapes.
This hotel offers a great opportunity to enjoy the Canadian nature in an unusual and cozy way. If you have ever dreamed of a life in a tree house, Free Spirit Spheres may make your dreams come true, at least for a few days. Located in a coastal rainforest on Vancouver Island, these oversized peaceful spheres are held up by suspension ropes and tied to surrounding trees. The wooden orbs are tastefully decorated and furnished with loft beds and Murphy beds, to make the most of the space inside.
In addition, the Free Spirit Spheres are an excellent base for daily excursions and the nearby Horne Lake Caves exploration.
One of the few underwater hotels in the world, Jules' Undersea Lodge is situated in the lagoon at Key Largo, Florida. Settled 21 feet below the surface, this unique hotel features three 20-foot underwater capsules where you can stay and observe fish, manatees, and other undersea creatures swimming by. This astonishing accommodation will provide the most unique experience of the marine world you can imagine.
In addition to overnight stay in the undersea lodge, you can also go scuba diving and get your Open Water certificate here.
Eating pizza and watching fish swim by? Why not? Order your dinner. It will be delivered down there in a waterproof container.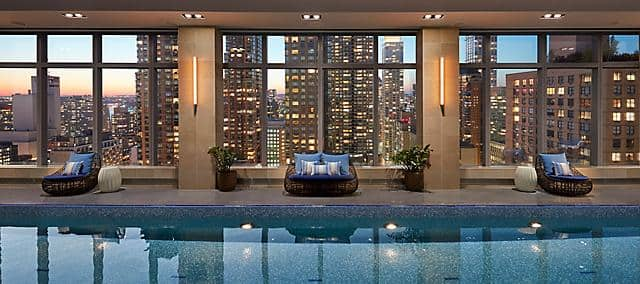 Mandarin Oriental is a luxurious hotel located on the top of the Time Warner Center at the southwest corner of Central Park. This stunning hotel offers a bird's eye view of Manhattan as well as easy access to New York's most popular sites, attractions, and shopping centers. Don't miss the opportunity to explore the New York's fancy shops for the unique travel gifts.
Alongside its perfect settings, Mandarin Oriental will also welcome you with a luxurious spa and astonishing panoramic views of Manhattan glistening skyline, the lush Central Park and shimmering waters of the Hudson River.
Adventure quotes may inspire you and nudge you to explore different travel opportunities. If you're up for an adventure camping experience, let your passion for travel take you to Sundance Lodges in Alberta's grandiose Rocky Mountains. Here, you'll find your lodging in hand-painted trapper's tents nestled in the deep, lush forest. You can go whitewater rafting, rock climbing, mountain biking, or simply sit outside of your tent and admire the breathtaking nature around you.
If you are taking your girlfriend for a surprise trip, don't forget to buy some travel gifts for her before you leave. Things like travel backpack, merino wool socks or a hiker's guide can be very handy when lodging in the Canadian Rocky Mountains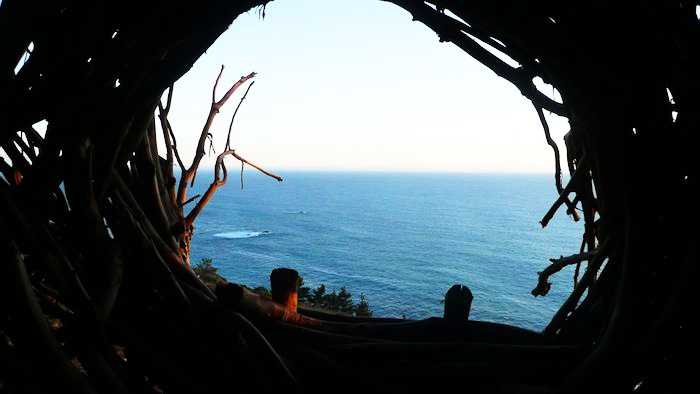 Always dreamed of sleeping in a huge nest? Now you can rent a Human Nest in Big Sur, California and feel an exceptional experience as you sleep in a tree nest under the stars. In addition, you will enjoy a spectacular Pacific view when you wake up. This is a very unique experience and many people keep coming back to enjoy it one more time. For that reason, you should book your nest a couple months in advance. In addition to Human Nest, you can book the Twig Hut, another original structure at the property. However, at both accommodations, you must bring your own pillows and sleeping bags.
If you are looking for a remote place where you can go hiking, explore the wilderness, and spend your weekend gateway in serenity, visit Falls Brook Yurts in the heart of the Adirondack Mountains in Minerva, New York. Each of these original yurts accommodates up to eight persons and features a kitchenette with tables and chairs, a sofa and bunk beds.
However, there is no running water in the yurt. You can bring water with you or use the buckets provided and bring the water from a nearby creek. Make sure to boil this water before you use it, though.
Travel gifts for women such as a pocket blanket, a thermos or portable pressure shower would be extremely good to have in a place like this.
Inn on the Lake in Yukon's Whitehorse is a perfect place to admire one of the most incredible natural phenomenon, Aurora Borealis. Located on Marsh Lake, only a 35-minute drive from Whitehorse, this rustic log offers spectacular views of the lake and Northern Lights as well as cozy accommodation.
In addition, you can enjoy a range of outdoor activities here, from snowmobiling and dog sledding to hiking and visits to the Takhini Hot Springs.
Share this post
Latest post
Testimonials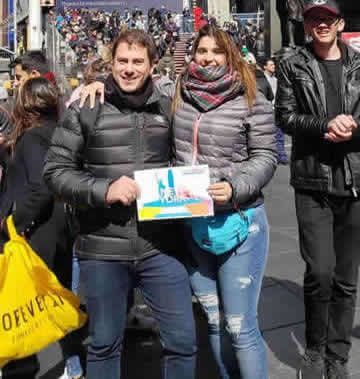 We had the best anniversary ever. We enjoyed the fact that we did not know where we were going, it made the trip so much better. The hotel was beautiful and was just accross the street from central park. We loved the suggestions in the app, and the scavenger hunt was so much fun! Thank you so much for a perfect anniversary!