Five North American Cities worth Visiting Just for Food
A passion for travel sometimes goes hand in hand with a passion for food. Here are top five surprise vacation destinations across North America that are worth visiting just for their fabulous culinary scene. Make sure to include these cities in your surprise trip planner at least once in your life.
Here are the five North American cities worth visiting just because of the food:
New Orleans, Louisiana

You may know New Orleans, Louisiana for its round-the-clock nightlife, the late-winter carnival Mardi Gras, and a vibrant live-music scene. However, what really makes this city special is the food. New Orleans' cuisine is reflecting on its history and culture – it is a mixture of America, African, and French cultures.
From international dishes to good, old-fashioned Creole favorites such as jambalaya or gumbo, New Orleans food will leave you speechless. The foodie experts have a perfect advice for you: always come to New Orleans hungry. The city's culinary scene and cocktail culture have led New Orleans to become one of the most popular gourmet places in the world. So, you may want to take your loved one on a surprise trip to New Orleans. Just saying.
Beignets. Delightful, fluffy dough squares coated in powder sugar are a perfect way to start your day in New Orleans. Traditionally served with café au lait, it will wake up all your senses with a first bite. Give them a try at the famous Cafe Du Monde established in 1862.
Gumbo. With the origin in both African and French tradition, gumbo is a thick stew made with a mixture of butter and flour (a roux) and served over rice. It comprises a range of ingredients such as peppers, celery, onion, chicken, sausage and/or seafood and it is one of favorite New Orleans food.
Jambalaya. Another fundamental part of New Orleans cuisine is much more than food for many. It is believed that the dish was New Orleans signature since Colonial Spanish settlers tried to make their traditional paella from locally-sourced ingredients. Jambalaya contains a mix of meat – chicken, sausage, and seafood along with vegetables and spices.
Portland, Oregon
In addition of being considered the king of cycling city in the U.S, foodies consider Portland as one of the best food cities nationwide. Here, you can find amazing bites and indulge in fabulous Portland's cuisine on almost every corner. As many travelers and fool lovers say, Thai food in Portland is not typical Thai food you would try in your city. The flavors here sharp, smells authentic, and the chicken wings the most delicious you'll ever try.
Ike's Wings
The famous Thai street has been drawing food enthusiasts since 2005.  Pok Pok's fish sauce wings are probably Portland's most famous dish. In 2005, chef Andy Ricker tried to reproduce a roadside Vietnamese fish-sauce chicken wing. That was back then. Today, however, Ricker's Pok Pok empire employs 170 people and is famous for its Ike's wings. The dish contains chicken wings coated in sticky-sweet glaze stippled with pieces of caramelized garlic.
In 2013 the secret recipe was finally revealed in the Pok Pok cookbook along with almost 100 other recipes and tricks for cooking Thai food.
House-made Tofy
Portland is home to America's oldest tofu maker – Southeast Portland's Ota Tofu. The soft, slightly nutty tofu, served in a cool bowl and half submerged in a delicately sweet broth will thrill all your senses.
San Francisco, California
If someone takes you on a surprise trip to San Francisco, don't stop your exploration of this amazing city at the Golden Gate Bridge. Okay, the Golden Gate may be San Francisco's main tourist attraction. However, the city is also famous for its unique and regionally typical food such as abalone, sand dabs, and crusty Sourdough French bread.
San Francisco's culinary scene is a perfect mix of a diverse culinary landscape featuring American, Mexican, Chinese, Vietnamese, Peruvian and other international cuisines.
And for a really decadent experience, try pastries and coffee at one of the city's traditional bakeries. Real cream, rich pastries are usually done old-fashioned way. Heavenly.
And while at the bakery, start your day perfectly. Try San Francisco's morning buns and fresh bread. Yes, you may come back home a few pounds heavier. But who cares?
Also, don't miss visiting the Ferry Bldg Marketplace, a huge foodie farmers market. Start your day strolling through the shops and sampling artisan cheese, oysters, and chocolate.
So, if your surprise travel agency sends you to San Francisco, California, don't miss to indulge in the city's marvelous cuisine.
Toronto, Ontario, Canada: a Worldwide Cuisine in one Place
Proud to be one of the world's most multicultural cities, Toronto is also known as a North American city with the most diverse cuisine. The food in Toronto reflects its openness to diversity.
At different ethnic neighborhoods throughout the city, you'll find specific cuisines, such as authentic Greek food on the Danforth, Italian in Little Italy, Vietnamese and Chinese in Chinatown. In addition, if your surprise trip takes you to this Canadian city, don't miss Portuguese, Japanese, Indian, Caribbean, and Thai cuisine.
Poutine. As for traditional Canadian food, poutine is a Canadian favorite. Originated in Quebec in the 1950s, this dish containing cheese curds, French fries and gravy soon enough has gained its national popularity. A definite must-try part of your Toronto mystery vacation pack.
Vancouver BC, Canada
Vancouver, BC is known as Canada's cocktail capital. So, while on a surprise trip to Vancouver, don't miss visiting the city's historic Gastown district rich in award-winning restaurants, imaginative cocktails, and inspiring setting.
Furthermore, this Canadian city became famous as the country's Vegan hot-spot. Here you can find a variety of vegan food made with fresh locally sourced ingredients.
Salmon. Vancouver is well-known for its wild, fresh, tasty Salmon and other local seafood. A sure must-try.
Another Canadian city proud of its diversity, Vancouver is famous for its international cuisine as well. The Indian, Chinese, Peruvian, Vietnamese, European… an extraordinary mix of cuisines and tastes will capture all of your senses. Whether you dine at one of the city's upscale restaurants or take a bite or two at the downtown food trucks, one is sure – you'll enjoy in Vancouver's culinary delights and simply want to come back.
Share this post
Latest post
Testimonials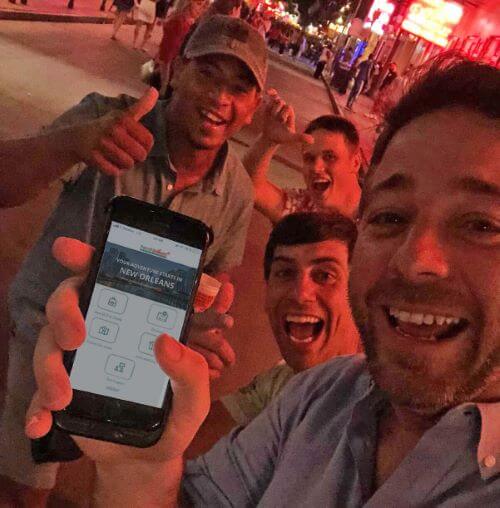 Amazing Weekend in NOLA. They booked us on a great hotel near Bourbon Street. We had a blast!