5 of the Most Artistic Cities in the US
25 agosto, 2019
Madeleine
The US has a few of the most important museums in the world, making some of its cities the ideal destination for art-lovers. From famous galleries to breathtaking museums, as well as amazing architecture and street art, discover today what 5 most artistic cities in the US have to offer you when it comes to showing you mind-blowing art.
1) New York, NY
New York not only tops the lists of the most modern, fashionable, and culturally rich cities in the world, but is also one of the best places in the continent to appreciate art from different cultures, currents, styles, and ages.
If you're into history, antiquity, and ancient cultures, then you have to pay a visit to the Metropolitan Museum of Art, where you will not only find hundreds of thousands of articles dating way back to ancient Egypt, but also seven entire departments dedicated to the preservation of different eras and art forms. From Asian art to centuries of fashion history, the Met offers you 5000 years of art to discover.
The MoMA, The Guggenheim, and the American Museum of Natural History are just some of the institutions that make New York a center for the arts, as well as its amazing galleries, street art, architecture, and local businesses that maintain different and unique creative characteristics each.
2) Savannah, GA
Savannah is a bustling port city with a great number of sights to enjoy, and it is also an artistic center with important museums, vibrant cultural representation, and architectural works of art. The lush greenery of its parks serves as the backdrop for a true representation of southern beauty.
Savannah counts with three major museums that complement each other and give visitors the chance to enjoy a full day of modern art, classical paintings, and historical heritage. The Telfair Academy, The Jepsen Center, and the Owens-Thomas House & Slave Quarters make up the oldest public art museum in Georgia.
Aside from the Telfair and the city's other twenty-three museums, another stop for the art lovers in Savannah is the Bonaventure Cemetery. Not only has this 19th century resting place been featured in many works of fiction thanks to its beauty, but it is also the home of some of the most beautiful graves and sculptures in the state. It's an unusual visit, but one certainly worth the night tour.
3) New Orleans, LA
New Orleans has one of the most vibrant art scenes you can visit in the South, with a wide and diverse offer that goes from museums dedicated to the history of the city to the bustling streets full of musicians and artists.
This city celebrates its heritage in every way it can, dedicating museums to their complicated history, like the Ogden Museum of Southern Art; to their folklore, in the New Orleans Historic Voodoo Museum; and to their cuisine, in the Southern Food & Beverage Museum.
Music is also a very important part of New Orleans history, and you can live a true jazz experience visiting Preservation Hall in the French Quarter, possibly one of the last places in the country to keep alive the origins of the genre.
4) Chicago, IL
A lively metropolis of skyscrapers and city life, Chicago is also brimming with art. From galleries to public art you can enjoy in the middle of the street, Chicago is for sure one of the most important conglomerates of art in the country.
Important museums to visit include the Art Institute of Chicago, the Museum of Contemporary Art, and the National Museum of Mexican Art – this last one being home to one of the largest and most important collections of Mexican art and culture in the country.
Public art is also key to the city's unique sights, and among the pieces you can enjoy on a stroll through the city are the Picasso sculpture on Daley Plaza, Richard Hunt's Freeform on the Bilandic Building, and Anish Kapoor's famous Cloud Gate on Millennium Park.
5) San Francisco, CA
When you think of San Francisco, it is inevitable to imagine bright colors and energetic streets. Art is vital to this city, and what's even better is that everyone seems to find a place to express themselves in such a multicultural town.
For more historical pieces you must head to the beautiful Legion of Honor Museum, with its collections of European paintings and sculptures, ancient art, photography, and more. For contemporary pieces, go to the San Francisco Museum of Modem Art, and for cool exhibits by new artists, go over to the Minnesota Street Project.
Museums and galleries are amazing places to visit while in San Francisco, but the real art gems you'll find in the streets. Street art is what gives the city its colorful characteristic, so head over to Balmy Alley for hallucinating murals, and to Clarion Alley for some of the most creative street works you'll find in the country.
There you have it; five of the most art-loving cities in the US, ready for you to visit their galleries, museums, parks, streets, and hidden corners, and to find the works of art that make them stand out among the rest.
Share this post
Latest post
Testimonials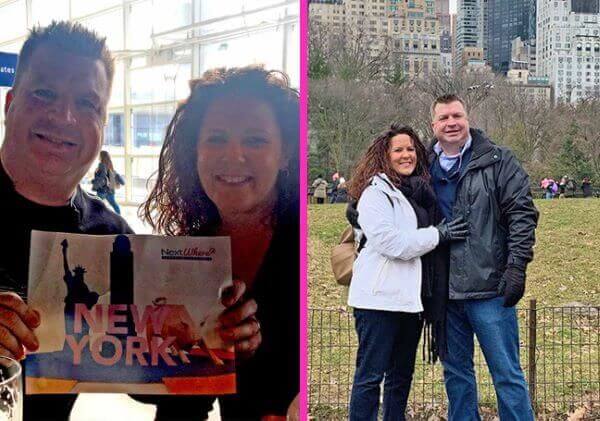 My wife and I usually take 2-3 trips per year, and this was one of the most enjoyable ones yet. Next-where planned a whole agenda for us, full of places to explore that we would never have thought to go to. Our hotel was in prime location downtown, walking distance from almost everywhere we wanted to go. We will definitely let Next-Where plan another trip for us and have already recommended them to my friends.

One last thing, the scavenger hunt was great. I've been to New York twice before and never stepped foot in Central Park. We ended up spending about half of a day exploring and enjoying it because of the scavenger hunt (even for hours after we completed it) so please don't ever abandon that portion of the trip experience.