12 Cities to Celebrate Oktoberfest in the US.
28 septiembre, 2018
Natasha
If you love beer, parties, and European experience, then you should visit Oktoberfest in Munich at least once in a lifetime. This authentic German event is the world's biggest bear and folk festival. It gathers more than six million people from around the world every year.
In addition to a huge selection of beer, visitors can enjoy various attractions, such as games, amusement rides, traditional food, and music.
However, most of us cannot afford to hop on the plane and head across the Atlantic each year. But don't worry. You don't have to go to Bavaria for this unique experience each year. You can celebrate Oktoberfest right here in the U.S. Thanks to places across the country with large German immigrant population, there are several cities in the United States where you can indulge in this genuine Bavarian celebration.
Here is a list of the 12 cities to celebrate Oktoberfest in the US: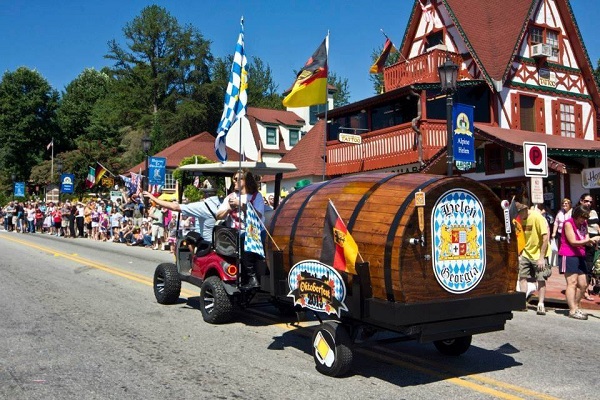 Oktoberfest in Helen, Georgia has been one of the cities with the longest tradition of Oktoberfest celebrations in the United States. Nestled in the heart of the Blue Ridge Mountains, this charming town will remind you of a traditional Alpine village. You can visit specialty shops selling souvenirs and German products and purchase some unique travel gifts.
Taste traditional food and drinks and enjoy traditional dances during the Oktoberfest celebrations in Helen, Georgia.
Leavenworth is a true Bavarian village in the heart of Washington. This dreamy little town was redesigned in the 1960s to look Bavarian. When you come to this place in the Cascades, you will find yourself in a picturesque Alpine village. From the mountain Alpine-style buildings and the Nutcracker Museum displays to restaurants serving traditional German food and beer, you will feel like in the heart of Europe.
Moreover, Oktoberfest celebrations in late September-early October will make you think you woke up in Germany. This small Washington town lives up each year during the Octoberfest celebrations. The festival usually lasts over the course of three weeks, from September 29-30 to October 13-14, and it offers an abundance of excellent beer, traditional German food, and good music. Experience German culture and enjoy the festivities in a genuine Bavarian village here at home.
Oktoberfest in Cincinnati, Ohio, also known as "Zinzinnati", is the largest Oktoberfest celebration in the United States. More than 500,000 people attend this celebration in Cincinnati each year. To be honest, this Oktoberfest is the one that most similar to the Munich festival. The event lasts for three days in mid-September and it is packed with authentic German food, drinks, and music.
You can also take part in a variety of competitions such as the stein holding contest or eating competition – test your belly with soft pretzels, jumbo pickles, Bavarian cheesecake, and other gems of German cuisine.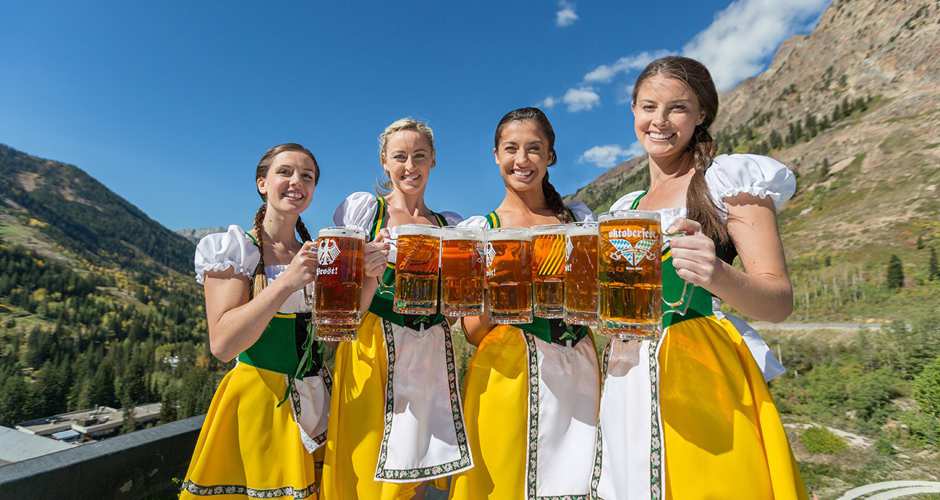 Snowbird Oktoberfest in Salt Lake County, Utah happens every Saturday and Sunday from August 12 to October 15. Each year, more than 600,000 visitors come to Salt Lake County for Oktoberfest, which makes it one of the largest festivals in Utah. In addition, this festival has been voted one of the best Oktoberfest celebrations in the U.S. Come and indulge in German food, drinks, competitions, and live music.
5. Fredericksburg, Texas
This charming town in the Texas Hill Country keeps a memory of German settlers still alive in its museums, historical farms, and events that take after German heritage and culture. However, the most important heritage event in Fredericksburg is Oktoberfest. This celebration features numerous events such as OkTubaFest, the annual live tuba performance, and traditional Hauptstrasse Chicken Dance.
In addition to fun and creative events, during Oktoberfest in Fredericksburg, Texas you will enjoy bratwurst, strudels, schnitzels, pretzels, and other tasty Bavarian food and drinks.
6. San Francisco, California

The Annual Oktoberfest by the Bay in San Francisco is a three-day event that runs from September 22-24. The festival features a lot of music, dancing, beer, and traditional German food. The elderly Germans are trying to preserve their heritage through music, apparels, food and a host of activities.

Each year, Denver hosts a modernized Oktoberfest celebration, with streams of craft beers and live music. Of course, you will also be able to indulge in tasty Bavarian food like schnitzels, sausages, bratwurst and cherry strudel.
Oktoberfest festival usually lasts four days and features food stands with authentic German food, a variety of craft beers, and live entertainment.
Oktoberfest event in Frankenmuth takes place from September 14-17 and it is one of the most authentic Oktoberfest celebrations in the United States. If you visit Frankenmuth, Michigan during mid-September, you'll enjoy genuine German beers, food, and music.
Oktoberfest at the Alpine Village, an authentic German restaurant in Torrance, California runs from September 10 to October 22 each year and features more than 100 craft beers from more than 40 breweries. Additionally, at this genuine German restaurant, bakery, and café, you can try a variety of delicious German specialties like sauerkraut or pretzels.
For the more authentic feel of real Oktoberfest, an OOmpah band comes directly from Germany to perform at Alpine Village Oktoberfest.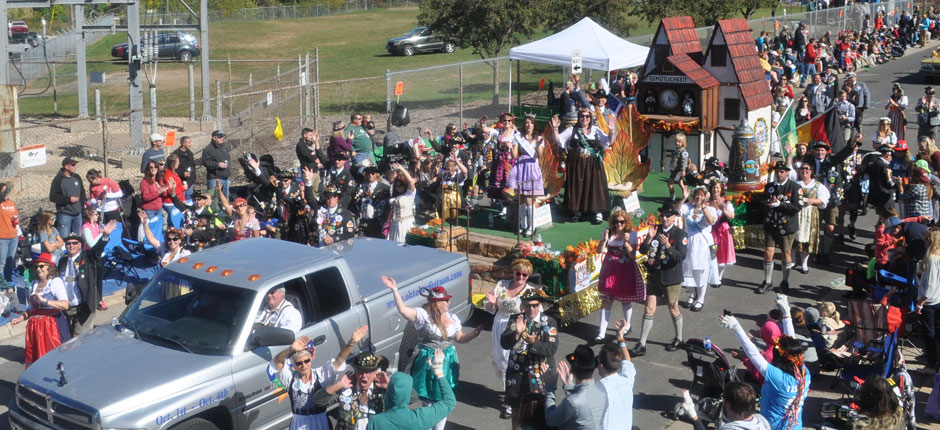 La Crosse Oktoberfest celebration dates back to 1961 and it is one of the biggest Oktoberfest celebrations outside Munich, Germany. The event happens every year from September 28th to October 1st. Wisconsin has one of the highest numbers of German Americans in the states, so the long history of Oktoberfest is not a surprise. Come and enjoy numerous parades, craft beers, and tasty food. There is also a beauty pageant taking place each year.
12. Chicago, Illinois

During the weekend at the end of September, Revolution Brewing takes their beer to the streets of Chicago. The celebration takes place on the streets along N. Milwaukee Avenue and Logan Square to Celebrate Oktoberfest. The admission is free. However, you can donate $5 for admission that will be donated to the neighborhood school programs under Friends of Goethe School.
Share this post
Latest post
Testimonials
Charlotte was our assigned destination and one of the suggestions in the travel guide said that we should come to Boone to ski. It was our first time in the snow and it was a unique experience! Thank you Next-Where!